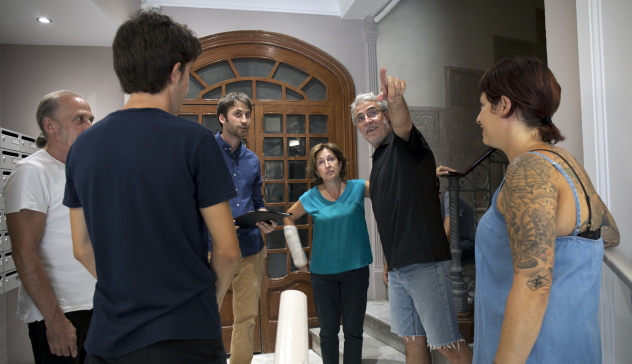 Cohousing, a change of model
Cohousing is an experience that creates places for community life. This is common practice in the north of Europe, and it is now possible in Catalonia as an option with many advantages.
An alternative to the current housing model
In order to face the housing emergency, Barcelona City Council is not only working to help people through grants and specific services, but also by increasing the Public Housing Stock. Along these lines, the City Council has opted for an alternative to the current model: the assigned-for-use housing co-operative, or cohousing.
Cohousing is a way of getting access to housing which allows a community of people to live in a building without being the owners or tenants at below-market prices, for a long period of time, between 50 and 100 years. 
The objectives of supporting this model are as follows:
To guarantee access to decent, affordable housing.
To maintain public ownership of the land, which is offered as leasehold.
To prevent housing speculation.
To guarantee stability over time for the users.
To foster the community management of property.
The model consists of the City Council or a private owner assigning a property or abandoned site to a co-operative for building on. The co-operative members pay a deposit and monthly instalments for the use of their dwelling. They can use the dwelling throughout their lives, but they will never be the owners of it: the property belongs to the co-operative.
The projects must use strict environmental criteria, provide a significant number of areas that promote communal life, the shared use of basic infrastructures and the coresponsibility of users in its management.
The model aims to persuade a private owner or a city council to assign a property or an abandoned site to a co-operative for building on. Co-operative members pay a deposit and a low rent, and they can use the property throughout their lives, although they will never be the owners of it: the property belongs to the co-operative.
Do you want to know what actions Barcelona City Council has promoted to foster cohousing?
You will find various actions promoted by Barcelona City Council to facilitate and guarantee the promotion and diffusion of a new housing model in the city: cohousing.
Creation of a co-operative housing committee
Public tender for municipal sites allocated to cohousing
One of Barcelona City Council's first actions in support for housing co-operative initiatives was to announce a public tender for municipal sites.
These sites are located in different districts of the city and will be used to construct co-operative housing, using the assigned-for-use or cohousing model. The added value of this tender is that it is restricted to co-operatives that foster a housing model that is different from the traditional ownership or rental models.
On May 15 of 2017, the results of the public tender were published: "110 cohousing flats to be built on 5 municipal plots of land".